A bit of an impromptu Activation today of Mt Lofty.
Work has been getting in the way of heading out portable over the last week or so but today, I grabbed an opportunity.
Well, this morning had a very nice brunch at the Crafers Gourmet Deli which was is only 4 km from the summit.  Highly recommended – grab a meal, then do a SOTA activation!  On the way out the door, grabbed the bag and checked that I had everything I needed.
First off Breakfast was awesome!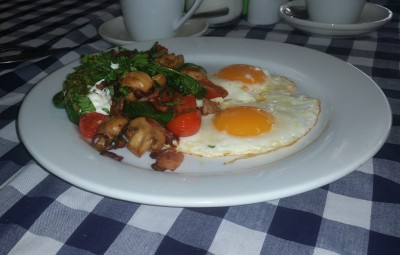 Yeah, it was worth the drive to the Cafe!
Anyway after a nice meal, it was off to Mt Lofty summit.
We set up about 100m from the car park just inside the gates on 40M  and put up a spot and gave a few calls.
It was pretty tough going – some of the worst conditions I can remember for a long time on 40M – Every single contact was a challenge.  So much that it was a releif when I made the 4th and qualified this summit (first time in 2015)
After a struggle on 40, with 10 contacts logged across VK2,3 and 7.  There were some chasers who were way down in the noise, that I could not pull out.
And a Big THANKS (NOT!) to the "helpful" person who decided that they felt the need to relay callsigns and signal reports and therefore invalidating a couple of contacts.  Whilst you think you are helping, you only guarantee that a chaser is not logged and gets no points.
I tried 30M next.  It was a lot better, the contacts were quite a bit easier – and put 4 into the log here from VK1,2 and 3.  30M is the sweet spot most of the time from VK5 into VK1 – or the 900km distance mark nearly every time I try 30, I end up with VK1 chasers in the log.  Today was no exception and the noise on 30 was quite a bit lower than on 40.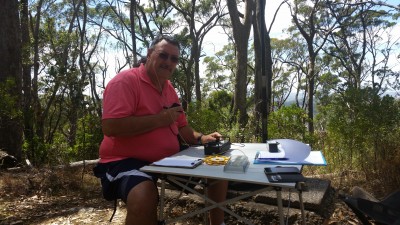 While I was calling on 30M (yeah gotta love the voice keyer on the KX3!)
Off to 20M, hoping to pick up any of the VK6 boys – but no such luck. Did manage to pull out a couple who said they could not hear me on both lower bands at all so it was worth the try.  20M added 6 more chasers to the logs from VK3,4 and a surprise – VK5 as well.  Once again, 20M conditions were not brilliant, but the noise was even less than the lower bands and it made the contacts that much easier.
Finally I jumped back to 40M and hoped that the conditions had improved, but well, lets just say that not really!  I did add a few extra contacts to the logs across VK3 and 5.
One thing for sure the WX was about perfect for a summit hovering around the 20 deg mark and nice and sunny.
Finally pulled the plug after about 90 minutes and had 26 contacts logged.  Thanks to all the chasers who persisted in tough conditions to make this an enjoyable activation.
Batteries
I have recently switched over to using 4S 5000maH Lipo batteries for my portable  operations – and dropped the weight down from 2.7kg for a 9aH SLAB to 550g.  Today, I did this whole 90 minute activation using the same battery that I had for my last 2 Friday evening Twilight Activation's.  I have not written them up, but the first was nearly 3 1/2 hours, and the 2nd was about 2/12 hours.  At the end of today, this put just over 7 hours of operations on the battery – and at the end it was still about 35% charge remaining.
I have just finished floating it up and in fact, it was only 60% down.
This is a massive improvement over the time I was getting from the SLAB's with their inherent high internal resistance and low voltage.
Yes, 4S Lipo when fully charged is 16.8V, which is a tad hot for the KX3 – so yes, I do utilize a battery conditioner which I have posted about before.
For the $32 for the battery (hard case from hobby king) it is one of the best investments I have made for my portable kit.  Now I know that with the 2 batteries I have, I can do at least 10 hours of portable operations and not need to worry.