This weekend is the 2nd anniversary of the SANPCPA and as part of the weekend I did an activation of the Angove Conservation Park – a small park in the north eastern suburbs of Adelaide.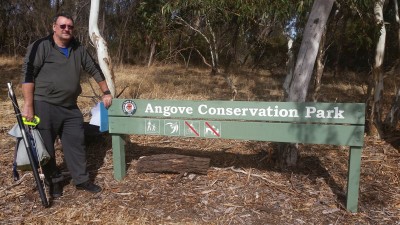 This park is surrounded by houses and is not very large and today, when walking into the park we were greeted by 4 Kangaroo's – something that was not really expected.  They gave a careful watch as we walked past then continued to graze.
Being a small park and not wanting to disturb the neighbouring houses, we set up right in the middle of the park and tied up the squid pole to one of the many track-marker posts throughout the park.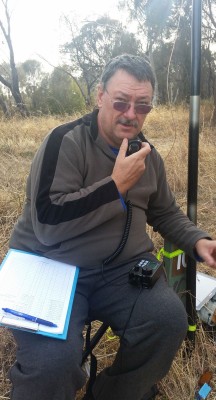 Got set up and on-air on 40m and had a quick listen around the bands, there were no other activators around that we could hear. Set up and posted a spot on ParksnPeaks and within a minute or 2 the first chasers of the day were calling in.
A 360 degree view from the operating spot in the Angove CP
It was a steady pace and worked around 15 stations, including some other park activators who were setting up, before we had a bit of a look around the bands before moving on.  Worked a few more activators and it was obvious that everyone was starting to get out for the day – the bands were getting a bit busier!
Today's activation was with a brand new portable QRP rig – the FX-4A which is a quad-band HF radio (40,30,20,17M) and it does around 8W SSB.  This little rig is around 1/4 the size (and price) of the Elecraft KX3 and comes in at a total weight of around 450g – just perfect for the ultra-small, ultra-lightweight activation, making it possible to have a complete station, rig, battery, squid pole, antenna well under 2kg total!
The rig seemed to perform reasonably well, and I will be putting it thru it's paces and writing up more about it in the coming day.
For the trip to Angove CP this morning, I had a total of 22 Contacts across VK3 and VK5  including 8 P2P contacts.
A big thanks to all who called today, and a bigger thanks for some new Unique CP's for me as well!
The Parks worked were:
VK5NQP – David at Mokota CP
VK4FR/5 – Chris at Pelican Lagoon CP
VK5FTRG – Tom at Reedy Creek CP
VK5HDW – David at Lake Frome CP
VK5FANA – Adrian at Bird Island CP
VK5PAS – Paul at Carribie CP
VK5PET – Peter at Bullock Hill CP
VK5ZRY – Richard at Ramsey Way CP
My Contact with Adrian, VK5FANA using the FX-4A
It was such a great morning to be out and about and celebrate the 2nd anniversary of the SANPCPA.