Easter weekend presents an opportunity for portable activation's -well 4 opportunities as it turned out.
Although the weather was not perfect, i took the opportunity on Friday, Saturday, Sunday and Monday to get out portable somewhere!
Friday Afternoon – Horsnell Gully CP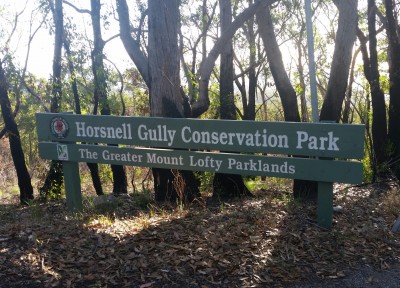 This is a new CP for me.  I have driven past within 1-2km several times but never stopped and activated.  It was a late afternoon activation of this CP and set up not far from the entrance tied up to the fence.  set up using and EFHW as an inverted L.
We accessed the CP at the end of Coach Road (top end off Ridge Rd).  Chose this end of the park as it is further away from houses (and QRM) and also about 200M higher in elevation than down towards the bottom of this CP.  Surprisingly, even though there is HT power lines running alongside the CP and all within about 500M of where we set up there were no issues with noise at all like you can get.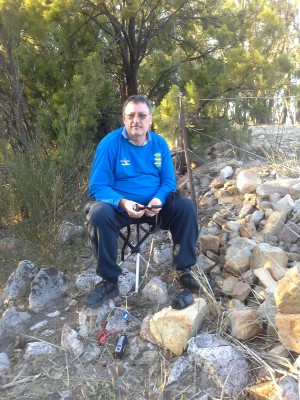 As soon as I set up, I managed to work Peter VK3PF who was set up in Cape Liptrap Coastal Park MP(VKFF-745) before finding a frequency and managing to log around 20 contacts on 40M mainly with VK3 and VK5 chasers.
Now, i wish I had made better notes, but 1 contact with a VK3 was a highlight as I gave this hunter the contact to push them to Gold for the SANPCA award.
Saturday Evening – QPR Hours Contest – Mt Gawler VK5/SE-013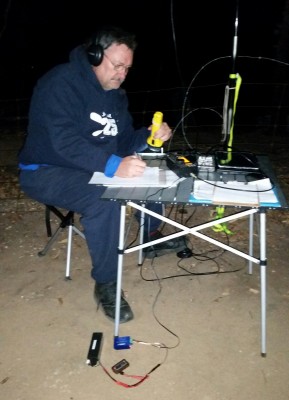 For the QRP hours contest on Saturday evening, I headed up to Mt Gawler – VK5/SE-013 and set up the 80m dipole as an inverted V
It was a bit sub-optimum with the height of the apex being only about 8M high.  The first hour I operated PSK31 and managed a handful of contacts including VK1, VK3, VK5 and VK6 using 3W.  The 2nd hour, for SSB whilst not a real high score was tough going, the noise on 80M was a bit of a battle, but did manage contacts to VK1, VK2, VK3 and VK5 using only 5W.
So, remember, if you worked me during the hours contest, Please go ahead and claim your Sota contact – I have uploaded the logs to Sotadata
Sunday – Black Bullock Hill VK5/SE-016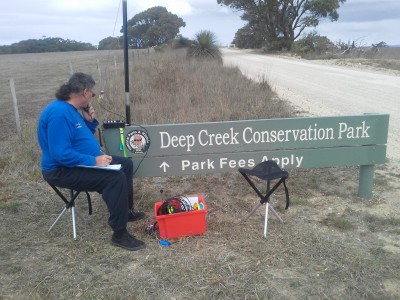 Yes, you might see the Deep Creek CP sign, but the Summit is not in the CP!  the CP is around another 6km down the road, You can almost see the trig point in the background just over the fence on private property.
This was an opportunistic Activation and also a new summit for me.  I was down on the Peninsular and given that it was only about 40km out of my way, headed home via this "summit".  As we were setting up, we were watching the rain coming in and threatening to drown us.
It was far quicker than I really wanted, and signals were not too great, but did manage to work several of the regulars and even manage a S2S with VK3KAB on VK3/VE-023.
A total of 22 contacts logged across VK1, VK2, VK3, VK4 and VK5 – most on 40m and a couple on 20M.
this activation pushed my activator points up to a massive 30 points – so at this rate, it will only be another 34 years until I reach goatdom!
A very easy summit to activate apart from the distance!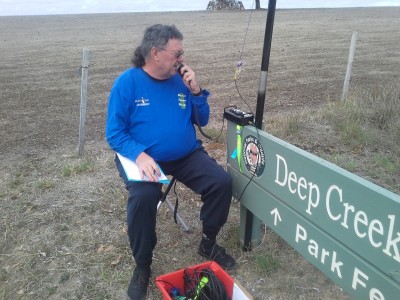 Monday Mt Lofty – Trifecta Activation
My Lofty always was a double – with VK5/SE-005 and Cleland CP, but with the recent addition of Cleland CP to VKFF as VKFF-778 it makes the trifecta.  Any chasers here now can get credit for all 3.
Monday weather was miserable.  I was watching the weather radar and it indicated that there should be a bit of a break for a couple of hours, so we headed out.
Got to the parking area and whilst it was a bit windy and cold, it was not raining.  Within 5 minutes of setting up it got a bit horrible – just enough drizzle to get everything damp, but not quite strong enough to drive me off the summit.
Before I decided it was too cold I managed to log 26 contacts across VK1, VK2, VK3 and VK5 most on 40M and a few on 20M.
I did not quite hit the 44 contacts this time, but once I do I'll submit a log for WWFF.
No photos from here -it was too cold to push the button on the phone to get something!
Equipment
Across the weekend, I used the FX-4a and an EFHW cut for 40M for 3 of the activation's.  exception was for the QRP hours contest where I used the KX3 and an 80M dipole.
My normal fare antenna-wise is to use a dipole.  I wanted to try using the EFHW as some operators swear by them and some swear AT them!  I also use the T1 tuner to get the best possible match and so far am finding that It is very difficult to get a good match on 40M.  It does manage to match it, but I might need to take a further look at this.
I am sort of in the middle of the road with this antenna.  Yes, it is trivial to deploy, Yes, it does seem to tune up reasonably OK on all bands from 40-10M with both the KX3 internal tuner and the T1 External tuner, and yes, still manage to put 20-30 contacts into my logs for each outing I have used it.  Now once I manage to get the tuning sorted out for 40M I will simply add it to my kit and use as required.  Always good to have choices as sometimes it can be difficult to find the 3rd point to deploy a dipole, but it is usually trivial to get somewhere to tie up a squid pole and then a single end of the EFHW wire in an inverted L type of configuration.
4 activation's, total of around 6 -7 hours and I only used about 50% of 1 of my 4S, 5000maH Lipo's.  really loving these batteries – even in the cold they seem to be performing really well.
Now, the last thing I need to do is to put the gear together into 2 kits and have a choice of how I operate somewhat – the lightweight kit with the KX3 and the even lighter kit with the FX-4a for the longer hikes where every extra gram counts!