A few days ago my KN-Q7A 40M SSB txcvr kit by crkits arrived.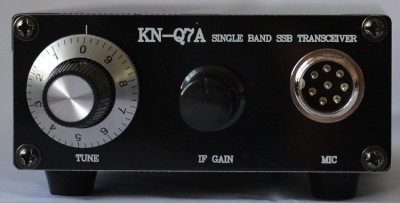 When it turned up, I had to take a 2nd look – this thing is tiny – somehow I thought it was going to be bigger.
I have been putting it all together and at the moment the RX is finished and working, just the Output (Power Amp) Stage and physically putting it all together to go.
I spent a few hours over 2 evening and the assembly instructions are both logical and very good!  It is not a kit for the first time builder, but on the same token, with a few kits under your belt it would be an easy one to tackle.
Already, I am reasonably impressed with the receiver.  it has a nice, tight bandwidth –  350-2100hz, and about -45db at 2500hz.  Sensitivity-wise, I am only guessing, but based on my Vertical antenna and dipole, it is quite comparable to both the Icom 706 and the TS-2000 (with the TS 2000 set to 300hz/2200hz filter bandwidth).   I usually like to use 200/2400 on the filter so this receiver is very close.
Initially I am building it as-is and once it is all up and working I'll then go and do a few mods to improve it in a couple of areas.
I went with the 7080-7100 VXO version and a quick check and It tunes from around 7077 – 7102, just perfect to cover 7090 and 7100 (and a little more as well).  Already, I have found that tuning is very touchy, but that will be solved when I modify it and add a DDS – yep I have the ILER DDS Kit  which will  replace the VXO – it will give me decent stability and be much easier to tune.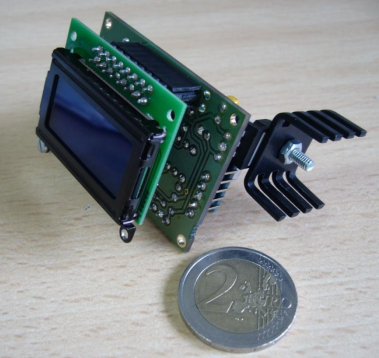 As this is a kit, it can be built to fit inside the case of the Transceiver, with the display in the top.
There are some nice suggestions over at David – VK3IL's blog for some mods that he has done and a bit of discussion relating to other possible mods as well.
The only other mods I am looking at is to add some audio processing before the Mixer – just a tad of compression to keep the average output power up,  probably looking at replacing or adding an extra audio stage  with some ALC and also to replace the toroid in the output transformer as per David's suggestion.
Hopefully I'll have it on air in a few days time, then start on all the mods.