This afternoon, I packed up the new KN-Q7A Transceiver, the T1 Tuner, Squid Pole, 40M dipole, and a Battery and headed out to Montacute CP.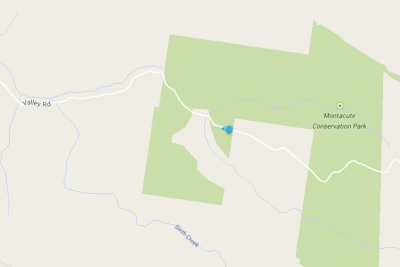 We drove to the end of the road, and walked into the Park along a section of the Heyson Trail for about 15 minutes up to near the top of the hill.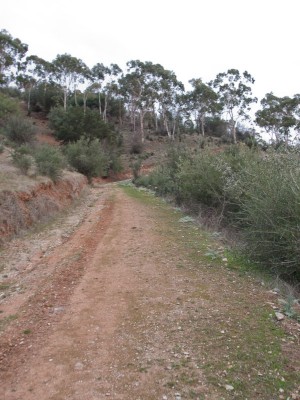 We set up just up the trail, near the top/right where it bends around near the crest of the hill.  Within a few minutes, I was sitting on the side of the track and calling on 40M.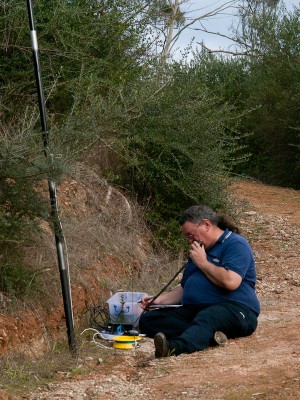 Now, today was a special day as I was operating my new KN-Q7A Transceiver for the first time after a false start on Saturday, where I went out and found that The tuning was a little off!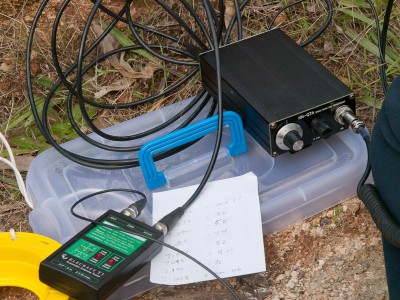 I started calling and within a few minutes had my first contact in the log – and by all accounts, from everyone who answered I was doing pretty good from the approx 12 Watts I was transmitting.  Yes, that is my tuning "cheat sheet" – as the Transceiver only has a VXO.  Before heading out, we set up an SDR and plotted the frequencies and made a note of the dial readings for each 5khz step and then the maximum and minimum.   I only have 7072 to 7102 tuning range and it will do for the next few weeks until I build the DDS kit and mod it!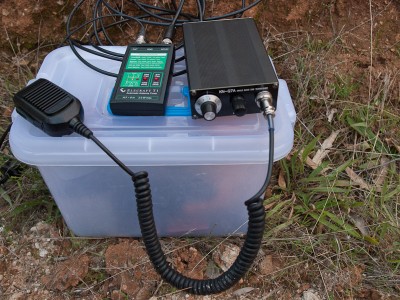 My "Portable Station" – we found a nice little plastic box that fits everything needed – radio, tuner, battery, antenna, patch cables and a logbook, just the 1 box and the squid pole makes going portable very lightweight.  For the astute, you will note, no internal speaker (wasting valuable space that will be used for other mods) instead, it is a speaker/mic which is quite reasonable.
Thanks to everyone who called and a bigger thanks to a few others who came down into my tuning range to respond to my call!
This afternoon, we worked the following VK's –  5ZAR, 3PF, 3ANL, 3FPY/5, 5WG, 5FMID, 3AMB, 5PAS/p*, 5LY, 5FGMH, 5KGP, 5BB, 5CZ, 5FGRY/p*
There were a few new calls in the log and a few now familiar ones as well!
VK5PAS was portable operating from Mt George CP, and VK5FGRY was  also portable in Morialta CP, for 2 Park to Park contacts in the logs.
Lets face it, it is not just about playing Radio that makes it worthwhile getting out into the Parks because as we were packing up, the sun was just setting and it was quite spectacular!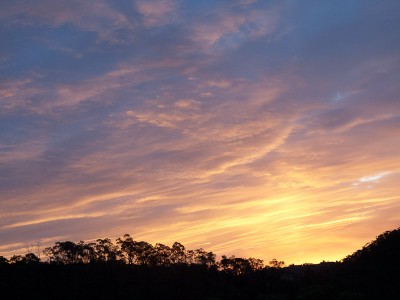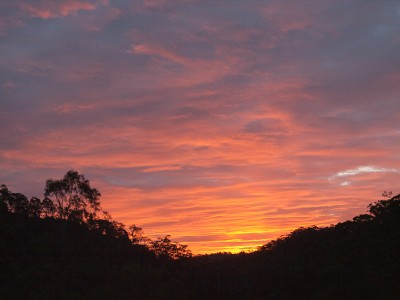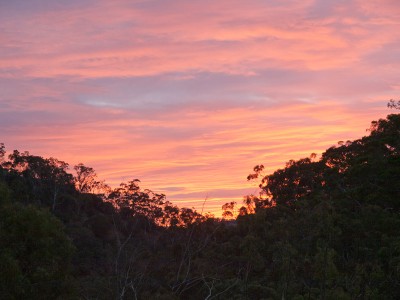 With a sunset and view like this, why wouldn't you want to be out there!
We were also rewarded with lots of birds and a couple of Kangaroo's  crossing the track on our way back down.
Yep, if you look carefully, you will see that I took one of these sunset  Images and added it to my blog as the banner image.
… and then… Since Gary (VK5FGRY) was at Morialta CP, and literally only a 15 minute drive away, we dropped in there on the way home – why only do 1 park when you can do 2!
Gary was set up using his new 10M Pole from DX-wire and it is slightly larger on the top section than a standard squid pole making the whole 10M useable – certainly a good looking pole that is worthy of adding to the portable kit.  I borrowed Gary's dipole and worked a couple more interesting stations.
VK5NIG was portable on Summit SE-013 – Mount Gawler and then VK3NBI/p and he was working from the Cape Ottway Lighthouse – getting everything ready for the Lighthouse Weekend in August.
For anyone looking for a nice lightweight radio, from the reports I had back today, that this one should be a real contender for a lightweight rig to put in a pack and get out there, certainly a lot easier than taking the IC-706 which we used for the first few activations, and in it's current state, very battery-friendly on receive (only 40ma).
With today's activation(s) I have now done 5 unique CP's and probably now also logged enough as a hunter to qualify for a bronze hunter, not bad for a month!
Look forward to logging you from another park soon.