On a whim, after working VK5ZAR whom was portable from a couple of Conservation Parks  on Friday the 18th of April, we (Bob – VK5FO and Ray – VK5RR) decided to go portable and activate a couple of Conservation Parks ourselves!
Not being totally prepared, in terms of a decent lightweight setup, we grabbed a (large and heavy) battery from our holiday shack, the IC706, A 9M squid pole, and a 40M dipole that I had made that morning.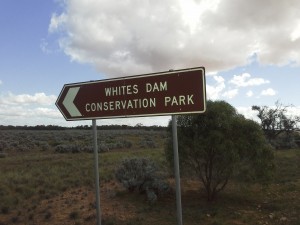 We set up about 400M from the Road –  in the direction the sign is pointing.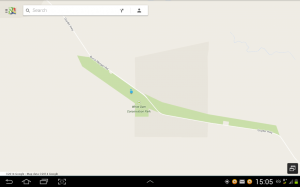 Screenshot from Android Tablet Showing Location of Activation
For my Very First Activation it was White Dam Conservation Park about 15km up the Burra Road from Morgan.  We arrived, found a suitable site to set up the Inverted V,  Set the power to 30W, tuned to 7.100 and found it un-occupied and call CQ  at 05:45UTC (15:15 Local Time) and was rewarded with a reply from VK5PAS – A fitting First Contact!  Is it considered cheating to send an email out to the list at the same time you call CQ?
Over the next 1 1/4 hours, We logged 35 contacts from VK1, VK2, VK3, VK4, VK5 and VK7 stations!   2 noteworthy contacts in the log were from VK5ZAR who was at the time in Mintacowie CP, followed by a contact from VK5GY who was operating in Scott Creek CP, so 2 Park to Park contacts in my very first Activation.  With the Assistance Of Ray VK5RR doing the logging, I was able to keep calling and working everyone.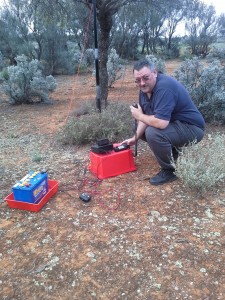 Setup – very Crude, but Effective, not even a chair!
Full log of calls from my First Activation  – VK5PAS, VK5DT, VK5FMID, VK5KGP, VK3BWZ, VK5ZAR, VK5GY, VK5DJ, VK3TKK, VK5NQP, VK3AFW, VK5NRG, VK3HY, VK7NWT, VK3ZRY, VK5MBP, VK5HCF, VK7YUM, VK2SS, VK3ERW, VK5KLD, VK2FMIA, VK5MTM, VK5FRHB, VK3VZZ, VK1DR, VK7LG, VK2CCW, VK2HBG, VK4SD, VK3HAC, VK3FOWL, VK5ND, VK2BRF, VK7AN.
The Calls were coming thick and fast and at times logging was a challenge.  When it quietened down, we pulled stumps, knowing that we provided another Park to 35 Hunters!
After we had something to eat, we headed out in the Evening to Activate Morgan Conservation Park as well.
Yep, we went up that little track to a clearing about 100M off the main road and set up.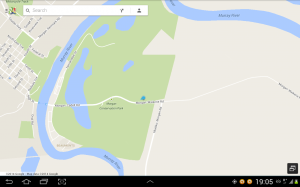 When the Antenna was up, we found a clear frequency and started calling CQ on 7.085  At the same time we sent out a couple of SMS's and an email to the list and we were rewarded within a minute or so with our first Contact.
First logged contact was at 09:55UTC (19:25 local) and the last one in the log was at 11:23UTC, when we pulled stumps again with a further 20 Contacts logged from VK2, VK3, VK4 and VK5.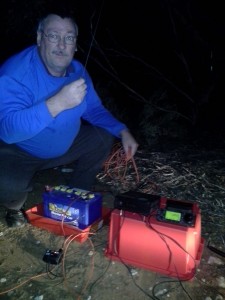 Setting up in the Dark.
Since I listed my Contacts from the First, here are my Contacts for this park as well – VK5AKH, VK5MTM, VK5PAS, VK3ERW, VK5AV, VK5FYD, VK5VRB, VK3FONZ, VK3HRA, VK5MCB, VK5FLEN, VK5STU, VK3XP, VK3ETC, VK3MEG, VK2YKW, VK3BWZ, VK3MH, VK2UH, VK4HJB
Well, 2 parks, 1 day, had a blast!  Stay tuned for the next Activation as what is being planned is to activate a CP that we don't think has yet been activated and is one that is a little bit difficult!