SOTA Summit VK5/SE-013
Went out and did my first SOTA activation this afternoon.  It was a nice day and I had a little bit of time.  This summit is very accessible and only a 15 minute drive from home.  On the way home we posted an alert to sotawatch in the hope we would have a successful activation.
We found a suitable spot to do the activation on the side of the road, and turned around, then jumped out and walked into the zone with my kit.
Put up the 40M dipole and tuned to 7.095 and put out a CQ call at 06:23UTC.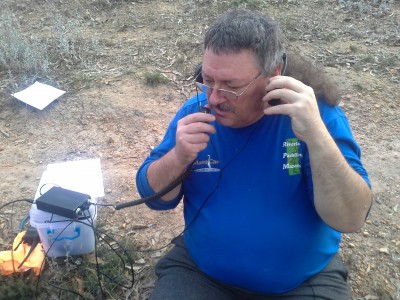 You might note that in the photo, I am holding my headphones away from my ear – a necessity as i do not have any ALC on the RX and don't need a strong station blasting my ears out!
Within a minute on the 2nd call, VK5NIG replied to my call and let me know that he had been out and activated this site earlier in the day!  (next time, look at the alerts before heading out…)
The responses to my calls came thick and fast and over the next hour. I had 33 contacts in the log for the activation.
On the way home, I got an e-mail that had a short video attached from vk5fgry – from his portable location in Morialta CP (about 16km away) he recorded my last logged contact for the activation with VK3FB/p
By this time a few of my earlier contacts let me know that my signal was getting pretty bad – like my battery was getting flat, so I packed up and called it an afternoon.
just under an hour and 33 logged, a pretty successful 1st SOTA activation.
Calls logged:  VK5NIG, VK3UBY, VK3YDN, VK2UH, VK1MA, VK3XL, VK3FQSO, VK5FGRY/P, VK4FR/P5, VK5WG, VK3FPSR, VK3FOWL, VK3AFW, VK5NQP, VK2YK, VK5ZAR, VK2MT/P, VK2KTT, VK3AZZ, VK3AMB, VK3ARR, VK3AXH, VK3FAJH, VK1NAM, VK2QR, VK5KPR, VK2NNN, VK1DI, VK3FSWB, VK8GM, VK2EXA, VK3NCR/2, VK3FP/P
There are a few other easily accessible summits that I will get out and activate in the coming weeks.