… yeah , the scenery and beauty of our summits that is.
As I am sure most SOTA chasers will be aware, there was a devastating bushfire that swept thru the the Mt Gawler summit and burnt nearly 12,000Ha and several homes.
Today was the first time I ventured back up this hill since the fires 3 weeks ago.
What I mean by not taking it for granted was this – I go up there "all the time" and only have a very small number of photos of the scenery.  I did manage to pull a photo from my 2014/2015 roll-over activation – and that was because we set up a 6M beam  and I wanted a photo of that.
So, first off the before.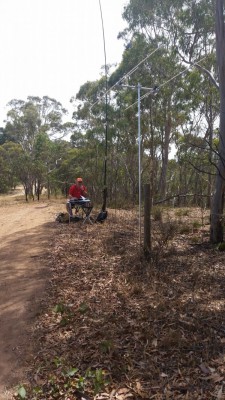 You cannot really see a great deal – but you can see that it it typical eucalyptus bush.
The first view of smoke – towards Mt Gawler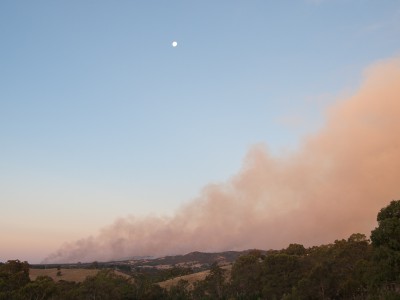 The during – This was when the fire was at it's worst and looking directly towards Mt Gawler.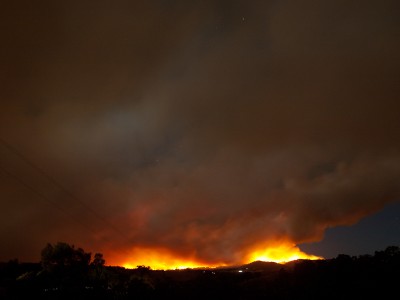 The photo was from 7km away and yes, those flames are well over 50M tall!
Today, 3 weeks later.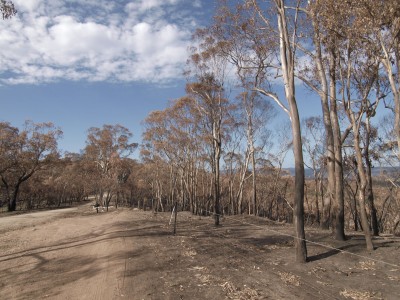 Not quite the same perspective as the before photo, but from a similar spot – yes, burnt right up to the fenceline and really destroyed a lot of the bush for sure.
Another spot – this is just opposite the gateway to Noel's property (where the trig point is) and that pile of cut down trees that were probably over the road is where I used to park the car when activating.  No, not enough space to pull off the road anymore, so I will be activating from a bit further along the road for the time being.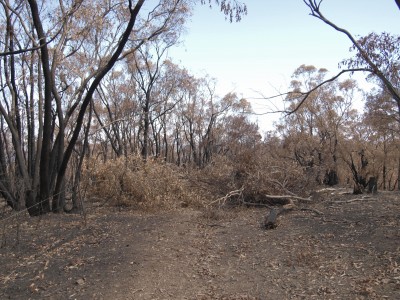 Now, what I am truly looking forward to over the next several month's is watching the transformation of this summit and surrounds back to what it was.
But yet again, thus summit surprised me – with the wildlife!  We had a kangaroo come up thru the burnt area to within about 10m of us, and then hopped off, and when we were leaving, one of the Emu's we often see was spotted on the back deck of a house that survived – joining a party!
The fire was intense in this area and no doubt, it will be a good few years before it is anything like it was but also what we saw was amazing – at how close this fire got to so many houses and the house are still there without too much sign of damage.
Anyway, onto the Activation!
Had a really pleasant afternoon, and  started out on 40M and was able to provide points to 22 stations across VK1, VK2,VK3 and VK5.  It was not too hectic, just a few times where there was more than 1 caller, but worked everyone eventually!
Jumped up to 20M hoping for a little bit of EU action, and worked VK6MB, ON5SWA, DJ5AV and OK2PDT – then it was as someone switched off the band to EU – could hear a little bit but way down, but pleased to have at least some DX.
A quick try on 17M, but no takers, so jumped onto 30M and picked up a couple more, before jumping back to 40M and had a couple of final contacts before packing up.
Yeah, I'll be making more of an effort to take a couple of photos each and every time I head out be it to a summit or a park, because you literally never know if it will ever be the same again.
Thanks again to all the chasers – look forward to working everyone from another summit or park soon!
Edit: addition of a few extra photos.
 Extra Photos
After a post on the Yahoo Group, Ed shared a video from his Activation on the SA SOTA 1st anniversary  I actually have some photos that are from the same direction as early in the video.
It just goes to show, that sometimes what we take for granted ( a local hill) is something special for a visitor!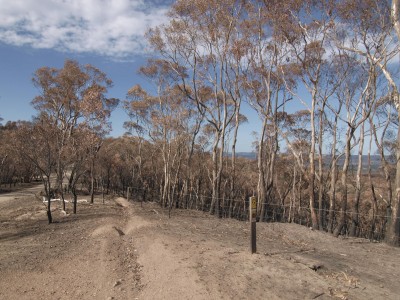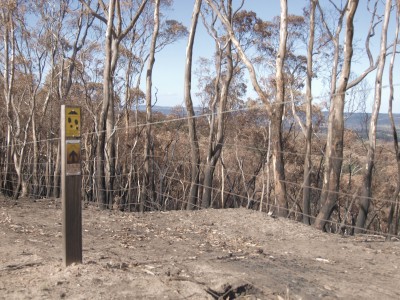 Looking Out across towards Gawler, and for the astute, if you look at the Emu photo in the coat of arms activation it is the same direction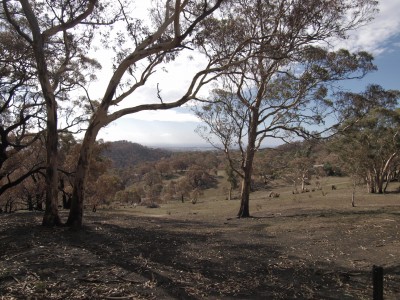 And Finally, check Ed's video carefully for the Signpost at Mt Gawler Road and Richardson Road – the tree is no more.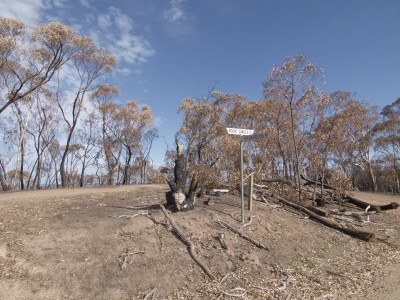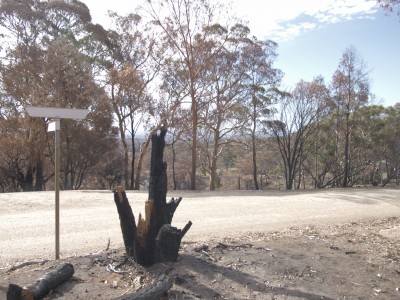 Ed's video is a further reminder that the Camera is an essential part of the portable kit, and should be used every single outing.