… since the last time I have managed to get out portable, but this afternoon,  the opportunity came up and I grabbed it with both hands.
Yes, the band conditions were not great wtih a CME less than 48 hours ago, but regardless, I still went out.
The location was Mt Gawler – VK5/SE-013 and today, I chose just to operate 15M then 40M, both off the 40M inverted V.
Firstly, it was good to see that the vegetation is slowly regenerating after the fires.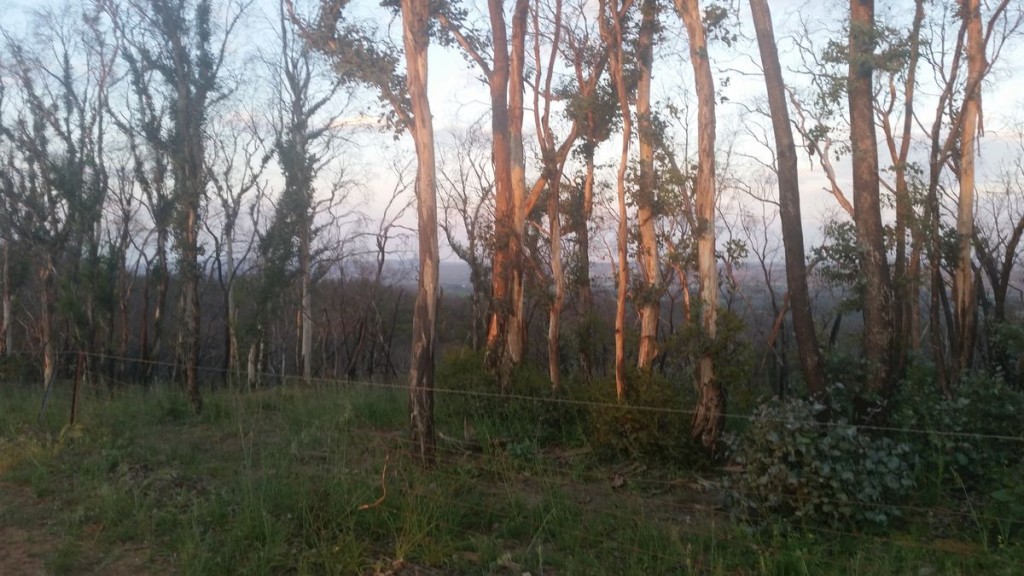 Well, a few things have changed with my setup since last time that I was literally trialing in the field for the first time.  Firstly, the new KX3 firmware that will allow 10W output with a power supply voltage above 10V.  This change means that I can use a 3S lipo and eliminate the (noisy) DC-DC converter I was using with the 4S lipo.  Glad to say it worked out great – and everything worked as expected.
The 2nd one is the ever-elusive quest to simplify logging!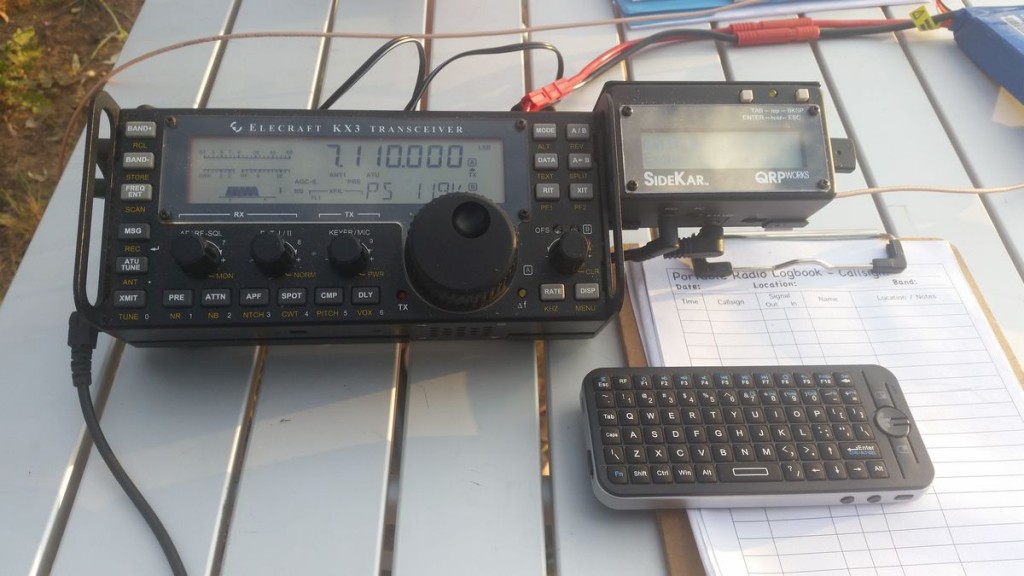 Yep, got a QRPWorks SideKar to go with the KX3 – and a micro wireless keyboard to drive it.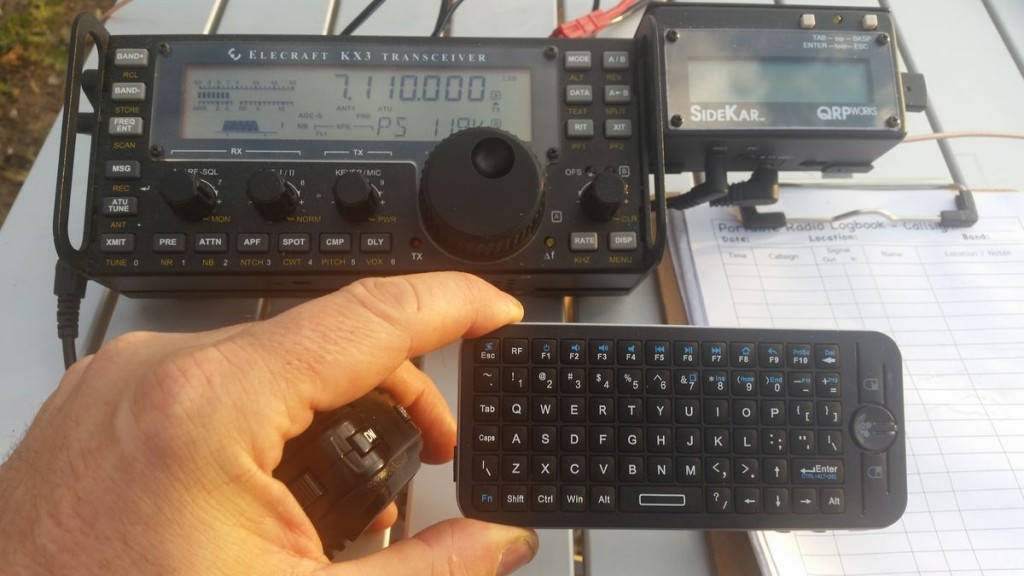 A bit more on it shortly…
It was a really pleasant afternoon and started on 15M
Posted a spot and started calling and only had a single contact on the band – VK5PAS.
After abut 20 minutes of calling CQ SOTA (thank heavens for the voice keyer and playback repeat functions of the KX3!) I moved to 40M and again started calling.
Like 15M the bands were pretty quiet but with the alert, over the next  hour, I put a further 10 contacts in the log.
As expected because of the conditions and time of day there was not much close-in activity – just a couple of mobile stations.
A few of the regular chasers were there, but a surprising number of VK6 stations came back to me – I have never had 3 VK6's in the log on 40M from here before!
Stations Worked on 40M
VK3PF, VK2IO,VK6NU, VK5AK/M, VK1MA, VK2HRX, VK6NK, VK2JAZ, VK6WE/P and VK5FSPJ
Now, Simon, VK2JAZ was asking what I could see from up at Mt Gawler – so I told him exactly what I was seeing – the sunset – and as promised – here is the photo of the sunset I took while we were talking – the photo does not do it justice!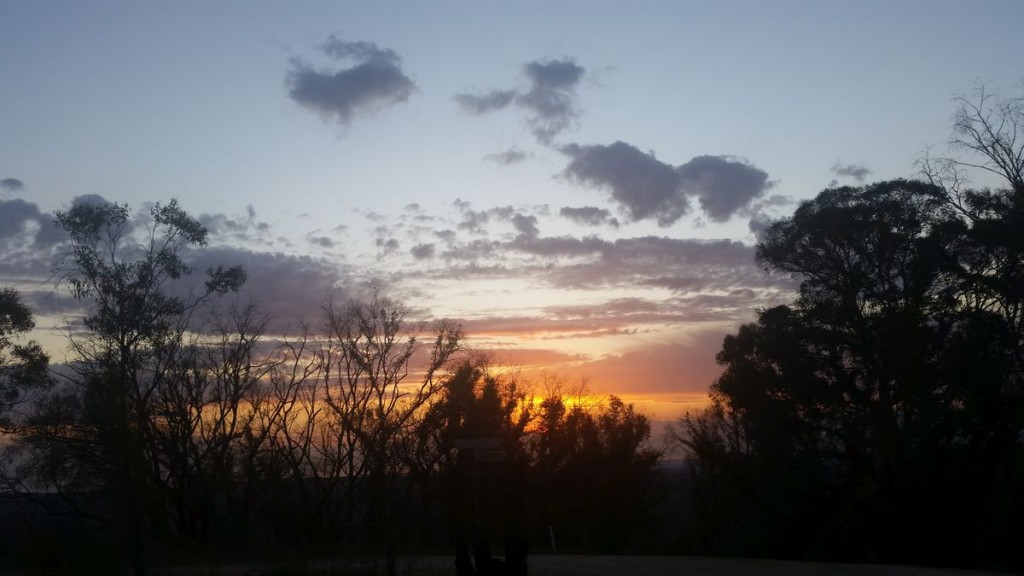 Now, onto the SideKar.
Well, it was a little bit of getting used to using it – and today, I was thankful of it being fairly slow so I had plenty of time to actually use it and get to know how to do the logging.
At the start of the session, I had to read the manual – on how to do some of the setup.  This device is specifically designed with SOTA in mind – and first things I did was to set the clock,  then set my SOTA Reference.  From there, it was pretty much just learning the keyboard shortcuts to make a log entry.
As the SideKar interfaces to the KX3, I did not have to be concerned with frequency and time – it was all recorded with each log entry.
I  was able to enter every contact into the SideKar in real time, It is a couple of keystrokes and all good!
Now of course, with the logs being entered real-time and then when I got home it was simply a matter of exporting the ADIF right from the SideKar to the computer.
As we all know – we need a V2 CSV format for uploading the logs – and I managed to find an online converter to do this.  The converter was not perfect, but took care of most everything – with just a few minor edits needed to get it ready to upload.
I guess that I'll look at developing a suitable conversion App in the future to export the ADIF as needed for upload to Sotadata.
Now, one of the issues I have had is managing the logs for WWFF – and now, I will be a lot closer to making this a lot easier as well in the future.
Of course, you will see that I used a very small wireless keyboard for interfacing with the SideKar – and it is perfect in so much as it is very lightweight – less than 50g.  You can use any USB or 2.4G Wireless keyboard, so a bigger keyboard might be used in the future for contesting etc, but for now – the lightweight one wins out.
At the moment, I have not really used the other features of the SideKar – extended display for PSK, RTTY and CW, but there is plenty of time for that.
As toys go – Pretty happy with this one, knowing that it makes the job of logging for the portable awards much easier.  Not only is it small and lighter than a laptop – it is useable in full sun – unlike the laptop!
Yes, a big success – and it is going to simplify my logging.
Ok, yeah, I know it turned into a mini-review of the SideKar, but by lowering the burden of having to enter all the paper logs when you get home, it makes the whole idea of going portable a lot more attractive!