VK5RWR –
R

iverland

W

est

R

epeater

Myself, VK5FO and VK5RR have commenced the build on a new Repeater in the Riverland – approximately 10km west of Waikerie.

The Current Status as of September 2021 is:

APRS Digi and I-Gate – 145.175   (Operational)  60W

VHF Analogue Repeater 146.750 / 146.150  (-0.6Mhz) (Not Operational)

UHF C4FM Repeater 438.750  / 431.750 (-7Mhz) (Operational)  50W

The UHF repeater is a DR2-XE, running an up to date firmware.  This repeater has several enhancements over the earlier DR2-X and the DR1 range, including better thermal protection.  If the repeater gets too hot, it will throttle the TX power down to 20W, then even 5W in order to minimize the risk of thermal failure.

The plan is to add the VHF within the next few month's.

The UHF repeater is running in AMS – Automatic Mode Selection – which means it will detect if you are using Analogue or C4FM (Digital) to give the maximum flexibility for users.

When transmitting Analogue there is  a 91.5hz CTCSS tone on TX so that you do not hear the digital tones when the repeater is running C4FM.

When utilizing Analogue (FM) mode, the repeater is operating stand-alone and not linked.

The repeater is running in Wires-X mode via a HRI-200 interface and it is configured to default to the "Adelaide 10G" (69159) Room.  C4FM users are able to disconnect and dial up to any of the worldwide Wires-X rooms, and after 20 minutes of inactivity the repeater will disconnect and re-connect back to "Adelaide 10G"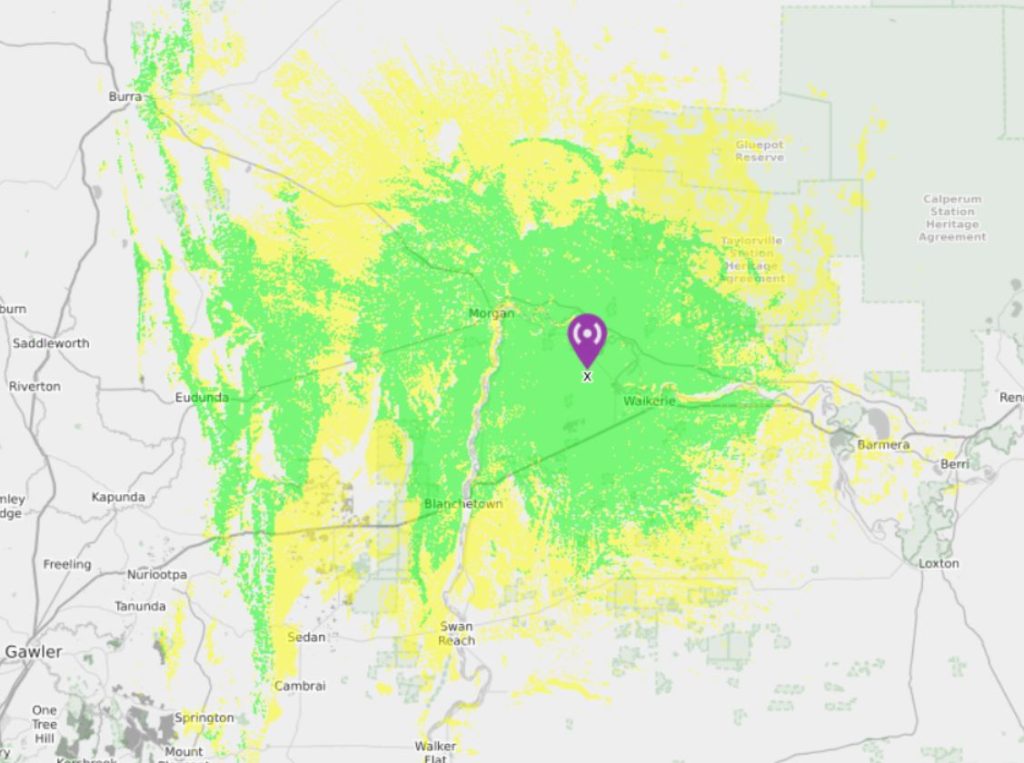 The coverage map is for the current UHF temporary antenna at around 13M.  When it moves to the main tower, it will go up almost 10M higher than it is now, and the coverage will extend somewhat.
There is coverage with a handheld in Waikerie and also Morgan (not down near the river).
From the limited testing we have so far completed, the coverage map is reasonably accurate and is based on a Mobile Radio running 20W.   It is possible that the coverage may differ from the map, and we would like to get feedback on actual coverage.
As a note, we have already had feedback that marginal access is available from Loxton using a high-gain vertical base station.
Update – 06-Oct-21
We have completed the earth works and are now almost ready for the concrete for the tower and shed to be laid.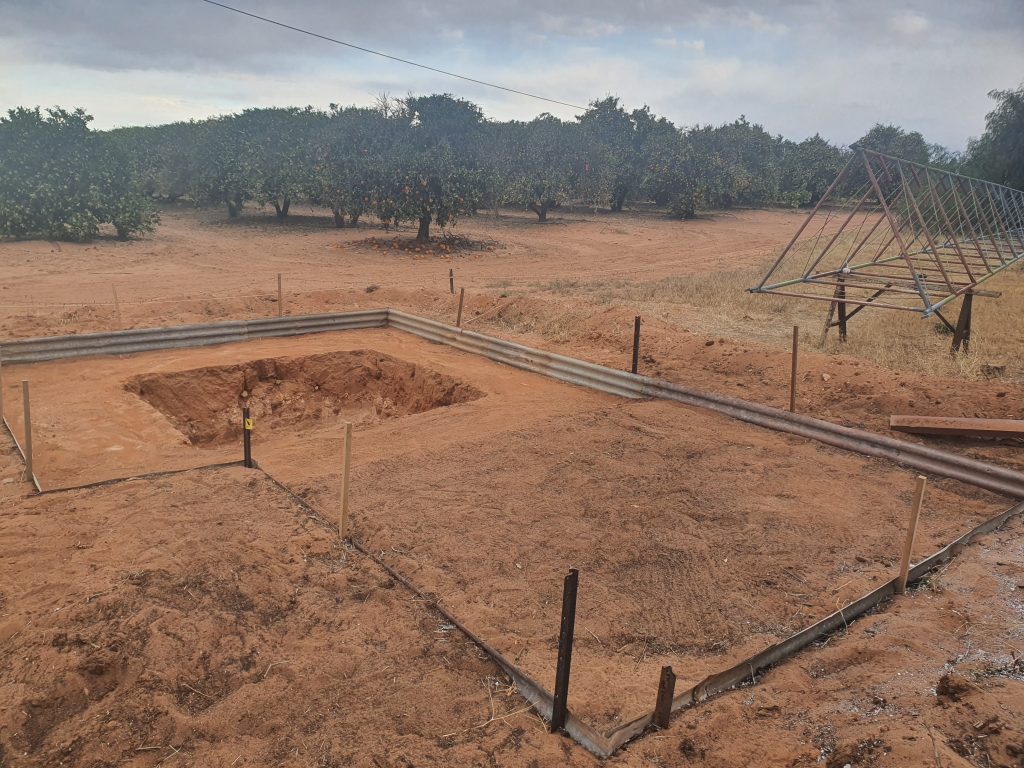 The ground is sandy with sandstone, we could not go (very) deep, so we had to go wide as well.  The tower will sit over a 2x2x1M "hole" with a 4x4x.25M Slab over the top of it, with an additional slab off the side where the shed will go.  The total mass will ensure that the Tower will be stable!   The Tower is 60 foot (19M) and will have the antenna's on a 4M pole in the top – For a height of nearly 23M for the UHF Antenna array and just over 21M for the primary VHF Antenna Array.